On request of the Ministry of Housing, we have been elected to design, engineer and build an 80 sqm single bedroom house in the Saudi desert.
Affordable houses
Customer Demand
CyBe Construction was asked by the Ministry of Housing to design, engineer and build an affordable 80m2 full house within the MOH, to stimulate and encourage new and efficient building techniques in Saudi Arabia. It relates to the ambitious goal set by Saudi Arabia to build 1.5 million houses by innovative technologies like 3D concrete printing and fast-brick robotics before 2030.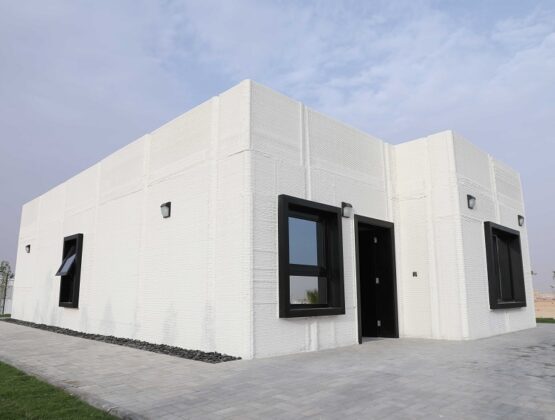 The first of many
Activities
The house we built can be described as a 80 sqm single bedroom house. It consists of 48 elements – 27 walls and 21 parapets – which were printed on-site in the Saudi desert within only one week. It can be seen as the first of many, since the Saudi government has set the ambitious goals.
While printing, facilities as windows, doors and electricity sockets were placed. Furthermore, CyBe Construction educated local operators on how to safely operate the 3D concrete printer. The local print operators will soon start printing the next phase of this huge project, as they are contributing to the ambitious goals set by Saudi Arabia.
A huge leap in knowledge
What we've learned
This case gave us a huge leap in knowledge about creating an integral housing concept for affordable housing – which includes building a floor, 3D printing walls and build roof, windows, installations HVAC & MEP. Above all, we managed to finish this within 5 weeks. It reduced initial building costs, and forced us to think broader that only the printed walls. During printing we started to control the environment – based on the experience gained within the R&Drone laboratory.